About us
Our Story
North Adriatic's leading ferry Company
Venezia Lines
Venezia Lines is a high speed ferry operator that operated its first trip in May 2003. Operating in the North Adriatic, Venezia Lines links the North Adriatic's coasts of Italy, Croatia and Slovenia. To date Venezia Lines has carried in excess of 1 million passengers between Venice and the Northern Coast of Croatia and Slovenia.
Venezia Lines is the North Adriatic's leading ferry company that has brought to the market reliability and experience by following the trends in the travel industry. The company is backed by the technical experience of Virtu Ferries Ltd, operators of high speed ferries for over 30 years.
In the North Adriatic Venezia Lines is currently utilising 2 vessels, San Frangisk and her sister vessel San Pawl, both with a capacity of 310 passenger, They are currently deployed on routes between Venice, Italy and the Croatian ports of Porec, Rovinj, Pula, and Umag as well as Piran in Slovenia. With a crossing time of between 2 hrs 30 mins and 4 hrs depending on destination, Venezia Lines is by far the fastest carrier between these ports, averaging at a speed of approx 35 knots. This service, operational between April and October, provides visitors to the Istria Peninsula with the opportunity of visiting Venice on one of the company's increasingly popular Day-Return trips to Venice. Apart from these popular day trips, Venezia Lines has managed to create an alternative means of transportation to travellers in Europe, being the first company operating vessels in the North Adriatic, to offer their services online. Since its commencement of operation they have transported an average of 20,000 individual one way passengers per year between the Croatian and Slovenian ports to Venice and vice versa. Venezia Lines can now be considered to market leader in this sector, transporting on average 97% of the One Way market.
Venezia Lines Ltd is a Maltese registered company which is a 100% owned subsidiary of Virtu Holdings. The head office is situated in Malta at the following address:
"Virtu" Ta' Xbiex Terrace, Ta' Xbiex XBX1034, Malta.
Co Reg C38792
VAT No: MT18000002.
Venezia Lines Ltd is also 100% owner of the Croatian company Venezia Lines d.o.o. turistička agencija i pomorski prijevoz with registered office in Zagrebacka 7, Porec 52440 Croatia. Venezia Lines D.o.o. is a travel agency with licence number: HR-AB-52-040194231 and OIB: 37071370145.
Venezia Lines D.o.o. is the appointed company acting as a representative and handling the operations in Croatia and is also responsible for the sales network amongst Croatian travel agencies.
Virtu Holdings
Venezia Lines is a subsidiary of Virtu Holdings, a 100% Maltese holding company of a family owned ship owning group which has, overtime, diversified into other business interests including other maritime related activities, the hospitality industry, tourism and real estate. Virtu Properties, a 100% subsidiary of Virtu Holdings has a portfolio of commercial, industrial and residential properties in some of Malta's prime sites. Virtu have a 22% holding in Malta's leading 5 Star Deluxe hotel, The Westin Dragonara Resort, operated by the world's largest international hotel chain, Marriott International.
Virtu Holdings saw its origins as a ship owning company in 1945 operating cargo vessels between the Mediterranean and northern European ports. In the early 1980s, in partnership with Italian and Norwegian interests, the company owned and managed a fleet of oil tankers in the Arabian Gulf and traded in petroleum, including salvage of off-specification products from Iraq/Iran war casualties. The company was the operator, on behalf of the Government of Dubai, of the Dubai Dry Docks Tank Cleaning Facilities.
Virtu Ferries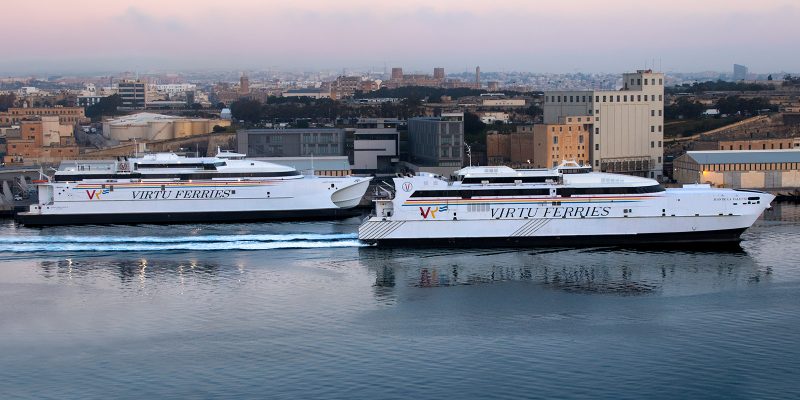 Virtu Ferries provides a Hight Speed Passenger / Car Ferry Service between Malta and Sicily. This servie is currently operated by M/V Saint John Paul II and M/V Jean de La Valette.
M/V Saint John Paul II
M/V Saint John Paul II, delivered to Virtu Ferries in February 2019, by shipbuilders Incat Tasmania, has been selected for the prestigious notation "Significant Ship 2018", by the highly respected Royal Institute of Naval Architects (RINA). The Institute was founded in London in 1860, with the aim of advancing "the art and science of ship design." Members of the Institute occupy positions of high standing in the maritime industry worldwide, including universities and leading maritime institutions. RINA publishes a highly select annual list describing the most innovative and important commercial vessel designs delivered during the year by shipyards worldwide. Saint John Paul II was also awarded the "Ship of the Year 2020" in the High-Speed Ferry Category by the Cruise and Ferry Review.
Saint John Paul II started operating on the Malta-Sicily route in March 2019, in practical ever-day terms bringing Malta closer to Europe. The vessel carries 900 passengers and 167 vehicles, equivalent 490 Truck Lane Meters, allowing for 23 trailers, commercial and other heavy vehicles. At a cruising speed of 38 knots (70.4 km per hour) the Saint John Paul II makes the crossing in approximately 90 minutes.
M/V Jean de La Valette
In 2010 Virtu Ferries expanded its fleet by commissioning the M/V Jean De La Valette from Australia's ship builders Austal Ship. The custom built, state of the art, high speed passenger/car ferry can carry 800 passengers in 6 air conditioned lounges, with reclining leather seats for perfect passenger comfort. Those who wish, may also make use of ample seating space on the open air decks. Leisure areas include a shop, offering interesting and useful items at very favourable prices, as well as 3 catering outlets. The vessel can carry 165 vehicles on the car deck and can take up to 20 trailers, commercial and other heavy vehicles.M/VJean De La Valette is the second largest high speed RoPax deployed in the Mediterranean, second only to Virtu's flagship the M/V St John Paul II.
A schedule of just over 1000 round trips per year provide for year-round Day Return Excursions to Sicily from Malta and similar seasonal excursions to Malta from Sicily; these excursions, of ever increasing popularity, have turned Malta and Sicily into two-point tourist destinations. Significantly the schedule also caters for niche commercial markets with a daily interchange of fresh agricultural and dairy products and fish between the two islands. Saint John Paul II and Jean De La Valette have revolutionized transport, and consequently trade, between these two Mediterranean islands.
M/V Maria Dolores
Virtu Ferries took delivery of the Auto Express 68 design car and passenger fast ferry M/V Maria Dolores Austal from builders Austal Ship of Western Australia in 2006. The vessel was deployed on the Company's Malta-Sicily-Malta service between 2006 and 2010. She played a major role in the evacuation of citizens, from all over the world, during the Libya Crises in 2011. Since 2012, the vessel has been leased to Inter Shipping SRA operating the route between Tarifa, Spain and Tangier, Morocco.
Maria Dolores carries 600 passengers and 65 cars or 95 Truck Lane Metres and 35 cars. The Main Deck accommodates 508 passengers in Tourist Class. The Club Class on the Bridge Deck provides seating for a further 92 passengers. There is additional seating on the aft outdoor deck at this level.
The vessel is built in accordance with the requirements and under the survey of the Det Norske Veritas-GL, conforming to International Maritime Organisation codes and Malta Flag State and Italian Port State Regulations. Maria Dolores flies the Malta Flag.